We are certified to carry out maintenance, repairs and installations for our partner company MELAG for the whole range of MELAG products. MELAG trust our customer service and we have complete faith in the products of the manufacturer. We are now carrying out validations on sterilisers and thermos disinfectors (RDGs)
This brings an enormous advantage for you: You get maintenance and validation from one provider.
As our certified technicians are thoroughly trained and experienced, they can carry out repair work at your own location.
With Dr. Ing. Peter Kaminski Medizintechnik as your service partner on your side, you will benefit from our extensive range of services and a wealth of experience.
Our competent team of technicians and product advisors will find individual solutions for all your challenges.
Our service
Certificated, experienced customer care
Certificated MELAG customer care
Servicing, maintenance, repair
Autoclaves, (RDGs) (thermal disinfectors), foil seal appliances
Regeneration of ion exchangers and maintenance of water preparation installations
Customer care for chiropractic surgeries, clinics, doctor and dental surgeries
Our inspection technicians are certificated service technicians. They can directly analyse and repair any occurring faults and malfunctions!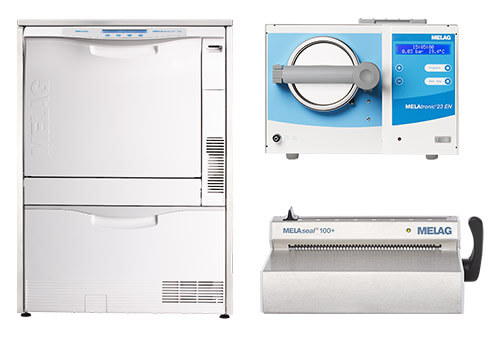 Validation
Two challenges, one partner – maintenance and validation from one source
Two challenges, one partner – maintenance and validation from one source.
Definition: "Confirmation by objective proof for the fulfilment of determined application, or for the determined use, has been given." (Source: ISO 9000:2015)
During a validation, given target values determined by statutory norms and laws are compared to actual values and real-time data. For example, we measure temperatures, pressures, hold times, dosages, pH-values, and many more. Furthermore, sterilisation, cleaning, disinfection and sealing processes are validated.
We validate your appliances according to the relevant statutory norms for sterilisation (DIN EN 13060, EN 285, DIN EN ISO 17665) or according to cleaning and disinfection statutes (EN ISO 15883).
Your advantage with us: validation and maintenance come from one provider. Our service technicians diagnose and fix possible faults straight away! This not only guarantees the conclusion of the validation process at the end of our service provision, it also means a smooth, trouble free, continuous operation for you.